Article: Scientists show we can die of a broken heart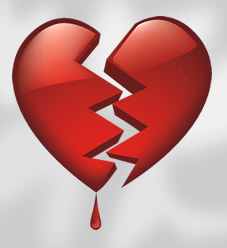 (Via
LewRockwell.com.
) They do not talk about breaking up with someone, but they do talk about the dangers of intense stress on heart disease patients. Emotions seem to matter even more when it comes to good health.
Read the full article @
The Telegraph
.
Update:
Some more love links:
This is your brain on love
When you're attracted to someone, is your gray matter talking sense -- or just hooked? Scientists take a rational look.
Learn How to Improve Your Luck in Life
Researchers say it is not hard to do.
Here are some Google links to help you prevent/recover from a real heart attack:
Omega-3 fatty acids
,
Vitamin D3
, and
magnesium citrate.
(This is the brand I use for Vitamin D3/Magnesium Citrate:
30 minutes of Sunshine
by LifeSpan Nutrition)
Wed, Apr 11, 2007 06:00 UTC